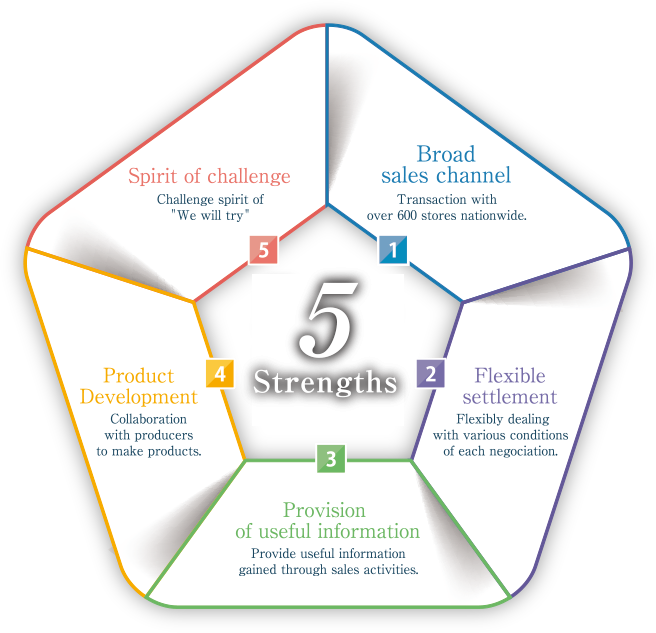 We are delivering commodify products and selling items to consumers with a wide range of
sales routes including over 600 grocery stores, discount stores,drug stores,
liquor stores and so on throughout the country.
In the future, we are also developing new suppliers to enhance the handling of
alcoholic beverages (Wine and liqueur), household goods and everyday goods.

We offer benefits to producers and manufactures by flexibly responding to business partners,
including lump sum purchase, speedy timely purchase,
settlement method for each negociation, and so on.

Through fine-gained retail support it is possibe to obtain benefical proposals to producers
and manufacturers through success stories of retailers throughout the country and
on-site information such as "If there are more such items…"

From the thought that it is not interesting to sell common objects,
we are also working on the development of Private Bland products jointly with producers.
For example, repeated discussions with domestic and
overseas producers/manufacturers such as reviews of existing product designs and standards
from cases involving product creation from raw materials,
we are developing products unique to Cross on.

In order to respond to customer's request with a better from,
we always carefully challenge the Spirit of "We will try"
so that we can make better proposals with flexible thinking without
being bound by a fixed consept is.

〜From sales department to Producer/Manufacture〜
In addition to selling outstanding items to retailers, Cross-on is focusing on more comprehensive "Retail Support".
By checking various information such as flyers of mass merchandisers nationwide , market price for each product,
and remarkable growth in retailing style ,let me refer to the voices of customer store buyers as well as proposing
products that were in store we received a proposal for plus α.
We provide sales promotion support making full use of footwork's lightness, such as production of original POP
and effective sales area linked with popular products.